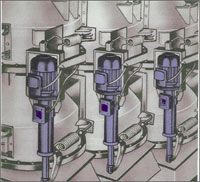 LIMITORQUE Electro Mechanical Linear Actuator is a packaged system for direct conversion of electrical energy into controlled linear motion. The pneumatic & hydraulic cylinders along with their many accessories are replaced easily by this device with greater operational reliability than its fluid power counter parts. It is ideally suited for applications in remote locations & hostile environments.
CONSTRUCTION AND OPERATION
Although Continental Profiles Actuator is a precision piece of machinery, its rigid construction will withstand the most severe industrial demands including extremely hot and hazardous environments. The actuator is of totally enclosed, weather proof and dust proof design. All parts of main driving mechanism are contained in a robust steel housing to which a TEFC flange motor is attached. The power of the motor is transmitted through a pin type coupling to the driving mechanism which in turn actuates chrome plated drive pipe in an axial direction. The axial support of the drive pipe is within the housing and the same is provided with a special seal at the end of the housing to prevent entry of dust.
LINEAR  (415 VAC/ 50 Hz/ 3 Ph)
Type & Size
A
B
C
D+SGA2
D+SGA4.9
Max. Thrust Capacity kN (kgf)
1.47 (150)
7.35 (750)
14.7 (1500)
29.4 (3000)
58.8 (6000)
Max. Stroke (mm)
250
750
500
1000
800
for speed and other strokes values consult factory