(A)      Quarter turn worm gear operators Type 'T'
The "T" series operators have been designed for any valve or mechanism which requires 90°rotation. Uses are : butterfly, plug and ball valves, louver dampers, flap gates or any device (mechanism) requiring 90° movement.
These operators have been used successfully throughout industries in all sectors such as water and waste treatment works, power plants, petrochemical facilities, marine service, chemical processing and power transmission areas.
All standard units are built for outdoor service are weatherproof and are factory lubricated.
TYPE
Sr.No.
MODEL
TORQUE CAPACITY (MKG)
MOTORISED
MANUAL
 
 
 
 
 
Quarter turn worm  gear

operators Type 'T'

QUARTER-TURN GEARBOX WITH SPURGEAR ATTACHMENT Data


01
1.1.1    T050
61
83
02
T100
102
138
03
T150
152
207
04
T200
248
303
05
T300
373
455
06
T400
1214
1863
07
T450
2898
4416
Each units sizes are furnished with mechanical stops which are externally adjustable for 90° of travel with plus or minus 5° adjust-ability. All units are supplied with mechanical position indicators for visual determination of valve position. The output of the units can be directly bored and keyed to specific shaft requirements or can be supplied with splined adaptors to permit customer machining.
Input torque valve can be determined by dividing output torque values by (ratio x efficiency).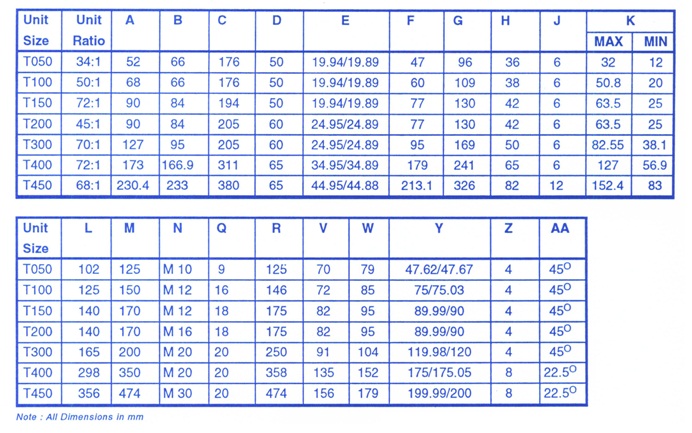 (B)    HBC Worm Gear Type
The hand operated type HBC unit is a worm gear drive which may be used for any valve or device requiring  90 Degree as well as 360 Degree (Guillotine Dampers and Rack and pinion) movement.
This actuator is used as the manual operator attached with a hand wheel. It also can be remotely controlled combined with motorized Limitorque Valve controls. HBC unit is furnished with spur gear and bevel gear attachments to reduce manual operating force. The worm is of alloy steel and furnished with tooth grinding, and the worm gear is of high tensile strength bronze; therefore the HBC unit is very compact and strong. Fluttering of valve has been minimized because of least backlash of high precision gears.
HBC units are provided with double sleeve, relation with the key way position of valve/ damper shaft can be taken freely.
HBC SERIES
TYPE & SIZE
H0BC
H1BC
H2BC
H3BC
H4BC
H5BC
H5(1/2)BC
H6BC
H7BC
H8BC
H10BC
GEAR RATIO
71:1
70:1
70:1
70:1
60:1
65:1
67:1
66:1
69:1
64:1
61:1
MAX. TORQUE NM (KGM)
E
600 (61)
1775 (181)
3000 (306)
7650 (780)
17325 (1766)
26500 (2700)
40000 (4077)
62300 (6350)
85950 (8761)
132450 (13500)
196200 (20000)
M
900 (92)
2660 (271)
4500 (459)
11475 (1170)
25988 (2649)
39750 (4050)
60000 (6116)
93450 (9525)
128925 (13142)
198675 (20252)
294300 (30000)