The L120 Series actuator  represents the latest design and control features in valve actuation today. It has been designed for operation of any valve mechanism requiring rotary or linear power.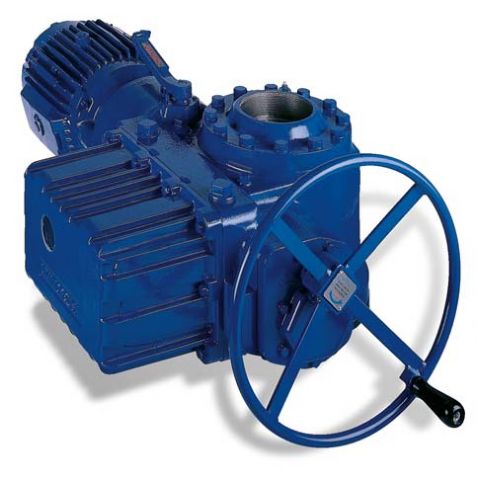 The L120 series Actuators having maximum  torque range of  117.5 mkg with speed varying from 10 to 216rpm., developed for applications requiring specialized service requirements, feature rugged cast iron construction with a manual declutching mechanism. All units are suitable for outdoor service are whether-proof and are factory lubricated for temperature range from -20º C to +70º C.
SR. NO
MODEL
TORQUE RANGE

(Mkg.)

SPEED RANGE

(Rpm.)

1.
L120-05
3-6
12-216
2.
L120-10
4- 13.7
12-216
3.

L120-20

8-27.4
12-216
4.
L120-40
16- 55.0
12-216
5.
L120-85
30-117.5
10-160
Standard Features:
Position Limit Switches

: Eight Contacts (2NO + 2NC) for Open and Close Direction, heavy duty, Silver Inlaid rated for 600 Volts. Specialty of the  Limitorque Design are:
(A) Gearing is fully enclosed all metallic, gears are grease lubricated for life
(B) Customer oriented freedom of arranging all or any contact as NO or NC
Torque Switches

: With Micro Switches having  2NO + 2NC contacts providing complete protection for Open and Close directions.
Motors

: Suitable for 3 Phase 415 Volts ± 10%, 50Hz ± 3% power supply; specially designed High Torque, Low Inertia, Short-time rated S2-15 minutes Duty, Totally Enclosed Non-Ventilated, Class F Insulated  with Temperature Rise limited to Class B,   Thermostats provided in all the 3 phase winding of  motors.
Mountings

: Are Provided as per IS: 9334

Enclosures

: Actuators are suitable for use in damp, dusty, outdoor environment. These are duly certified by ERDA VADODARA for IP-68 Class of Enclosure protection.

Manual Operation

: A  Declutch Lever permits manual Hand wheel operation. When motor is energised, the actuator returns automatically to motor operation without imparting any motion to the hand wheel; thereby ensuring personnel safety.

Wide Speed Range

: Limitorque Offers widest choice of output speeds ranging from 12– 216 RPM making selection of operation times nearer to process requirements.

Hammer blow

: In order to overcome inertia during unseating of torque seated valves, hammer blow effect is provided in the actuators.

Ease Of Maintenance

: All electrical components i.e. Position Limit Switch, Torque Switch, Motor terminals, space heater are provided in single compartment allowing easier maintenance and field modifications.
Actuators are suitable for 50°C ambient. Other ambient are available on request.